The following content is a brief and unofficial prerequisites guide to setup, configure and test delivering virtual apps from the Microsoft Azure Marketplace powered by the Citrix Cloud XenApp Essentials Service prior to deploying in a PoC, Pilot or Production environment by the author of this entry. The views, opinions and concepts expressed are those by the author of this entry only and do not necessarily conform to industry descriptions or best practises. The views expressed here are my own and do not necessarily reflect the views of Citrix.
Shortened Names
XENAPP – xa
XENDESKTOP – xd
XENAPP/XENDESKTOP – xad
MACHINE CREATION SERVICES – mcs
AZURE REMOTEAPP – ara
XENAPP ESSENTIALS SERVICE – xes
HIGH DEFINITION EXPERIENCE – hdx
REMOTE DESKTOP SERVICES – rds
What is it?
It is a replacement for the deprecated Microsoft Azure RemoteApp (ARA) – https://blogs.technet.microsoft.com/enterprisemobility/2016/08/12/application-remoting-and-the-cloud/ ("…Support existing Azure RemoteApp customers on the service through August 31st, 2017..") which provides simplicitic beauty of Microsoft Azure RemoteApp now with the "Secure by Design" enterprise security methodology, platform scalability with FMA in 7.x and HDX virtual app delivery protocol capabilities & power of Citrix XenApp.
ARA brought Remote Desktop Services (RDS) capabiltiies from a multi private cloud deployments on Windows Server to Azure with non-persistent RDS/RDP sessions delivered from the Microsoft Azure Cloud only! The XA Essentials Service is only available from Microsoft Azure Marketplace hosted on Azure and only supports the delivery of Windows apps delivery from Windows Server 2012 R2, 2016 prepared Templates or Bring Your Own Templates (BYOT) uploaded. Citrix has prepared a full FAQ available at – https://www.citrix.com/global-partners/microsoft/resources/xenapp-essentials-faq.html
Overviews & Demonstrations
Introducing XenApp Essentials Service is a demonstration of the Service by Citrix.

Extend the Microsoft RDS platform in Azure through Citrix solutions was a presentation at Microsoft Ignite 2016.

What Feature's Are Available?
The following feature matrix compares XenApp, XenDesktop Platinum vs. XenApp & XenDesktop Service vs. Azure Marketplace XenApp Essentials vs. Azure Marketplace XenDesktop Essentials –
https://www.citrix.com/content/dam/citrix/en_us/documents/reference-material/xa-xd-deployment-options-feat-comp-matrix.pdf.
High Level Getting Started, System Requirements & Pre-requistes
1. You'll need an Azure subscription with a resource group defined with a virtual network.
2. Define your preferred Azure region which you can ref from – https://azure.microsoft.com/en-gb/regions/.
3. Decide on your AD stratergy which can be Active Directory sat in the Azure resource location using a min A3 Standard VM instance for AD or you can utilise "Azure Active Directory Domain Services" and eDocs suggested that you review – https://docs.microsoft.com/en-us/azure/active-directory-domain-services/#main prior to implementing AAD for the XA Essentials Services vs. traditional AD.
4. Define your preferred OS strategy for the service which currently supports server OSes for Windows Server 2012 R2 or 2016 and you'll need to define master image stratergy e.g BYO image or a Citrix prepared image for the service! Notes: "(a)BYO with your own Server OS template including apps + licenses for those apps or choose Citrix prepared templates with Apps. (b)RDS CALS w/SA to Azure or purchase RDS SALs."
5. Customer owned Azure Subscription as is responsible for per monthly IaaS consumption costs e.g compute, network, bandwidth & storage
6. Only MCS based provisioning is support for public (Iaas) clouds and for this Service hosted by Microsoft Azure.
7. Subscribe to XenApp Essentials Service through Azure Marketplace at – https://azuremarketplace.microsoft.com/en-us/marketplace/apps/Citrix.XenAppEssentials?tab=Overview.
8. Connect your Azure subscription to Control Plane operated by Citrix Cloud. Citrix Cloud controls customer Azure subscription via Citrix Cloud Connectors to provide capabilities to manage, provision and monitor your XenApp servers which will deliver your HDX virtual apps
Deploying your Virtual Apps (Draft!!!)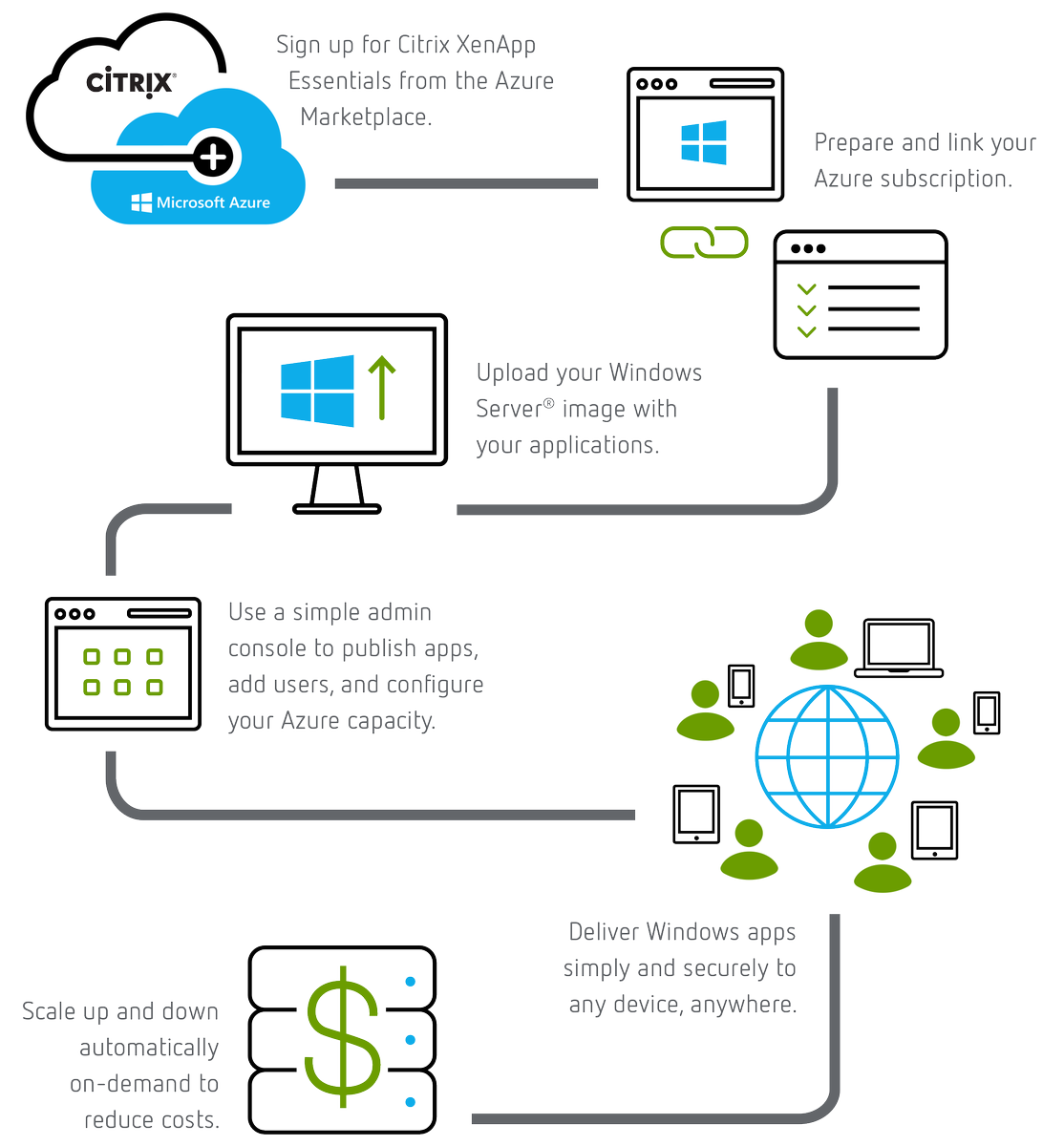 The above is an graphic from the official XA Essentials Service documentation from Citrix eDocs at – http://docs.citrix.com/en-us/citrix-cloud/xenapp-and-xendesktop-service/xenapp-essentials.html and the below is my personal text based step by step summary explaining how to get started with the XA Essential Service powered by Citrix Cloud and Microsoft Azure based upon the Ignite session at – https://www.youtube.com/embed/Ck0mtVXqOuM. Please note that these steps can change as the service is delivered from Citrix Cloud which is a secure SaaS style evergreen control plane – http://docs.citrix.com/en-us/citrix-cloud/overview/about.html.
1. Before you begin you will requires a subscription to XenApp Essentials Service from
2. Azure Marketplace + Server Images + RDS CALS w/SA
3. Create app collection similar to ARA
4. Create a name
5. Domain Joined (Popular) or Non-Domain Joined (TBC)
6. Link Azure subscription to XAE and select Resource Group, Virtual Networks & Subnet
7. Enter in Domain details which include Domain name, OU, Srv acct + passed
8. Select template image Citrix provided or your OWN
9. Select capacity and mange costs  by selecting instance type and power settings scheme (saver logoff after 10min; standard after 1hr; performance after 4hrs or always on i.e do not perform any power mgmt
10. Enter in # of users concurrent and you'll receive an estimate cost calculator prior to provisioning to understand the costs based on 40hr usage per month
Summary and the deploy
11. Time access is short as CC will provision your instances in your subscription
12. Select app collection click Apps tab then select apps to publish
13. Select users tab and search domain by user or group 
14. Return to Manage home and you'll see that your app collection is now ready with a green tick
15. Select app collection and you'll see the StoreFront URL to send to users
16. Users login with domain\user + passed
17. Users are now able to launch there HDX virtual apps secured by there organisations Cloud-hosted StoreFront FQDN which provides secure remote access via the NetScaler Gateway Service also review caveats re bandwidth through-puts below.
Caveats, Current Known Issues with the Service
The list of current know issues one are my ones to pay attention to most as of 04/04/2017 and a full list is available at http://docs.citrix.com/en-us/citrix-cloud/xenapp-and-xendesktop-service/xenapp-essentials.html so please check and read them all!
1. Live.com accounts cannot be used for authenticaiton
2. Users cannot launch and app if an existing RDS session is present on the XA VDA worker.
3. Machine catalogue failures may occur if deploying a VM instance size in a region that does not support that instance type any more.
4. A premium storage account is not supported see "Prepare Your Azure Subscription"
5. Each end-user is limited to 1-GB outbound data transfer per month but you can increase the limit via by acquiring a 25 GB add-on via the Azure Marketplace see "StoreFront and NetScaler Gateway in XenApp Essentials Service"
6. See eDocs for more…